The Young Artists' Jazz Series began March 31, 1996 with the goal of providing a forum for local young jazz artists to showcase their talents in front of a live audience, while giving the community the opportunity to support and enjoy these musicians. The performers are selected mostly from recommendations made by teachers or musicians in mentoring positions.
Catalina Popescu has generously supported this program by providing her club, Catalina Bar & Grill, L.A.'s foremost jazz venue, as the official home for the series.
It is very clear that the audiences are witnessing the future of jazz every YAJS performance. Most successful jazz musicians who are or were from L.A. and are under 40 years of age, likely performed in the series.
I'm proud to be producing this series and encourage all jazz lovers to come to the club and witness the jazz greats of tomorrow.
The Young Artist Jazz Series Is Pleased To Present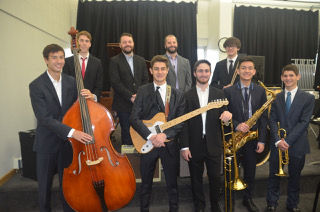 THE HARVARD-WESTLAKE JAZZ PROGRAM
SUNDAY, OCTOBER 22, 2017
Doors open at 11:30am for brunch
Music starts at 12:45
Please be sure to make reservations!
The Harvard-Westlake Jazz program, directed by Shawn Costantino, will be presenting their signature group, The Jazz Explorers, as well as two excellent groups from the HW jazz program. In the Spring of 2018, they will be touring Japan and all proceeds from this concert will be in support of Harvard-Westlake's financial aid office. Without this amazing commitment to financial aid, trips such as this one would not be possible. Shawn Costantino is in his 12th year as the Director of Jazz Studies and Instrumental Music at Harvard-Westlake School in Los Angeles where he oversees a diverse curriculum of 2 Big Bands, 7 small combos, an intermediate jazz rhythm section class, and a 32-piece classical wind ensemble. He also teaches directed studies in improvisation, jazz history, music technology, song writing, and recording.
CATALINA JAZZ CLUB
6725 West Sunset Blvd.
Hollywood 90028
www.catalinajazzclub.com
Please make sure to call for reservations (323) 466-2210
$8.00 + minimum • 100% of cover goes to musicians • students free with ID
all ages welcome
For more information, please go to
contact Barbara bjbjazz@mac.com
Many thanks to those who support the series
www.performingartslive.com    www.lajazz.com    www.lajazzscene.net
---
Roster of Young Artist Performers
Here are just some of musicians who have performed for the Young Artist Jazz Series through the years.
Monk Institute all-stars • Santa Monica H.S. Jazz Combo • Campbell Hall • Westlake High School Jazz Ensemble • LACHSA • Agoura High • Hamilton High • Colburn School of Music • Hoover High School Jazz Band • Washington Prep High School • Harvard Westlake • The Inner City Ed. Foundation Jazz Band • The World Stage All-Stars • Jazz America • Zane Musa • Anthony Wilson and his Nonet • Mark Ferber • Alan Ferber • Dan Lutz • Gretchen Parlato • Gerald Clayton • Sara Gazarek • Sara Leib • Chase Morrin • Donald Vega • Katie Campbell • Elliot Deutsch • Austin Peralta • Eli Bruggerman • Dan Marshack • Kevin Kanner • Dave Robaire • Sammy Miller • Mike Gurrola • Carrah Flahive • Matt Slocum • Joon Lee • Zak Astor • Adam Moezina • Jason Goldman • Danny Jonokuchi Big Band • Dakota • Maddie Deutsch • Katie Thiroux • Teryn Carter • Eric Reed • Teira Church • Willie Jones III • Josh Nelson • Raya Yarbrough • Ryan Porter • Isaac Smith • Eilliot Deutsch Big Band • Alfredo Rivera • Justin Janer • Kamasi Washington • Dan Marshack • John Egizi • Adam Moezinia • Levon Henry • Lauren Desberg • Todd Sickafoose • Brandon Owen • Carlos Puerta • Tony Austin • Walter Rodriquez • Jamie Rosenn • Sam Sadigersky • Jacob Sachs • Whitney Reed • Derek Yellin • Gary Matsumoto • Ben Wendel • Miles Mosley • Greg Swiller • Chris Pierce • Dave Sills • Brody Buster • Danton Boller • Keschia Potter • Campbell Hall Steel Band • Shana Bush • Aaron Blumenthal • Teira Church • Ronnie Bruner • Chase Morrin and the Latin Connection • Teryn Carter • The Steamer Quartet • Adam Moezinia Quintet • Dakota Horvath • Joyce Kwon • Giavanna Foster • The Colburn School of Performing Arts • LACHSA • Harvard Westlake • Gabriel Ambrosius • Danny Jonokuchi • Aaron Blumenthal Quartet • Teira Church • Shoshana Bush • Campbell Hall • CSUN Jazz A • USC Thornton Jazz Orchestra • CSULB Concert Jazz Orchestra • Hamilton High Vocal Jazz • Colburn School • Anthony Lucca • Kelsea Cire • Fabian Chavez • Bethany Van Hofwegen • Hye-Jeung Kang • Joel Wenhardt • Chase Morrin • Ultrasound • Fernando Pullum Community Arts • Media Noche • Javier Nero • Taylor Moore • Herman Tu • Anna Beatriz • Westlake High • Alex Sill and the Way Up Band • Santa Monica High School jazz Band • Joshua Kwassman • Arianna Neikrug • The Sundown Sextet • Timothy Lin • Nashir J Sextet • Chaynler Joie • Danny Jonokuchi • Misha Adair/Sophisticated Lady • Harvard Westlake • Arianna Neikrug • Alan Ishii • Ira Hill • Amy Rowe • Nathan King • College of the Canyons vocal jazz groups: "House Blend" and "Just Jazz" • Valencia High School vocal jazz groups: "Two N' Four" and "Soundwaves" • Jackie Gage